Mary Ann (Blasco) Page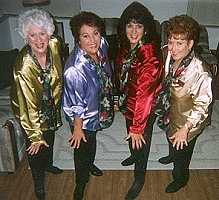 (email) map @ parodee.net
(married) married 1973-1996
(children) none (that I KNOW of ;) )
(pets) Penny, Cleo, Molly, Spartacus (Beagle/BeagleMixes)
(livenow) Knoxville, TN 37918
(lived-visited) Lived Miami, Hallandale, Hollywood, New Tazewell-TN, Knoxville-TN
(live-visitlater) Visit Italy, UK,
(jobnow) Retired
(jobbefore) Mathematics Teacher 36 years - Dade County Schools
(schools) Fla. Atlantic: B.S., Nova Southeastern: M.S. Ed
(talents) song & poem parodies, barbershop harmony singing
(newgoals) enjoy life and sing as long as I don't sound like Kate Hepburn
(favmemories) Sorrota, SGA, Sr. Class, Pep Club, great classes (see below),
(favteachers) DJ (Jasiecki), Col.Ramirez, MM Odom, Paul Storm
(favsongs) Beatles, Beach Boys, MoTown, Rolling Stones
(favnow) Barbershop Harmony (Knoxville & Atlanta), Political Organization, Social Media
(message) We're still spring chickens (What the cluck!?), we're still alive (with lots of luck), So what're you up to?, I mean how's tricks?, Cheers to the Class of '66!