Barbara Dees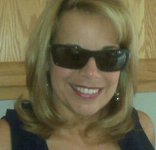 (email) barbaradees@gmail.com
(married) Divorced.
(children) Michael 35, Stephen 32
(gchildren) None yet, sons are still not married but I think Stephen is getting close.
(pets) Mikey, a Tuxedo Cat (6); Charleston, black cat w/no tail (2)
(livenow) Myrtle Beach
(lived-visited) So many of our wonderful US states including Hawaii (4) and Alaska, plus Florence, Rome, Venice, Paris, Monte Carlo, Niece, London, Edinburgh, Hong Kong, China, Japan, Nova Scotia, Bermuda, Jamaica, Bahamas, San Juan, St. Croix, St. John, St. Thomas, St. Maarten, Cancun, Cozumel, and I just can't remember every little place...
(live-visitlater) Still would like to visit Greece, Spain, Germany, Ireland, Australia, Switzerland, Hungary and return to Italy (Tuscany)...
(jobnow) Coldwell Banker Sea Coast Realty. Residential Broker for the past 8 years.
(jobbefore) Owned my own businesses for 3 years, Area manager for KinderCare Learning Centers 18 years.
(joblater) NONE - RETIRE
(schools) AS from Sante Fe College 72
(talents) Interior Decor and Cooking
(achievements) Was just a great mom and raised two wonderful men. Oh and I won a Corvette back in 1978....that was FUN!
(newgoals) Live the rest of my life Happy, Content and Healthy
(favmemories) A special kiss from TF
(favteachers) Mr. Maddalone
(favsongs) Chicago, BS&T, just about any really good songs that were popular back then. I love music and dancing!
(favnow) Relaxing at the Beach, boating, spending time with my sons, visiting with family and friends, just enjoying life in general and savouring the moment.
(message) Hope life has been good to you. Life is short...make the most of it. Be happy and maintain a healthy life-style starting with a refreshed mental attitude. If you didn't make the 40th Mega Reunion, YOU sure missed out on a fantastic weekend. Springs alumni are the BEST!!!